You might be a bookworm, a home office executive, or someone who just wants to flip their house to maximize the investment. Whichever you are, you might be wondering if built-in storage is worth it, particularly built-in bookshelves. We shall go over the beauty and benefits of built-in bookshelves. We also have photos of one of our recent projects below, so stay tuned!
The Beauty of Built-In Bookshelves
Built-in bookshelves can be simple or elaborate. Often made of wood, you can opt for various carved details and moldings or go for a purely sleek, modern design. Built-in furniture makes a house feel more substantial and even Old World. However, plenty of homeowners today love the idea of built-in furniture and storage just as much.
The Benefits of Built-In Bookshelves
Entirely Custom
Built-in bookshelves can be entirely customizable to your storage needs. You can order them according to the height, width, and depth specifications that best suit the room and your preferences. As mentioned above, you can also choose your bookcase's style.
Won't Fall Down
Freestanding bookshelves are in danger of falling over and injuring anyone in front of them. Some may even include a way to pin them to the wall to prevent this catastrophe from happening. With built-ins, you do away with this problem, and your bookcases are safer.
Guaranteed Storage Space
Whoever lives in this house will have storage space readymade. The bookshelves do not have to be strictly for books; they could also house baskets with odds and ends or whatever supplies fit well in those spaces. A house with storage is very desirable!
May Increase Your Home Value
The result of investing in built-in bookshelves might be that your home value increases. People are quite interested in homes that have built-in storage, including built-in bookshelves!
See Our Recent Built-In Bookshelf Project Below!
Floor-to-ceiling bookcases wrap around this home office/library, blending in well with the wood flooring. A built-in bench runs under the window. With a nice rug, some furniture, and books and sculptural pieces to fill the bookshelves, this room will become very cozy!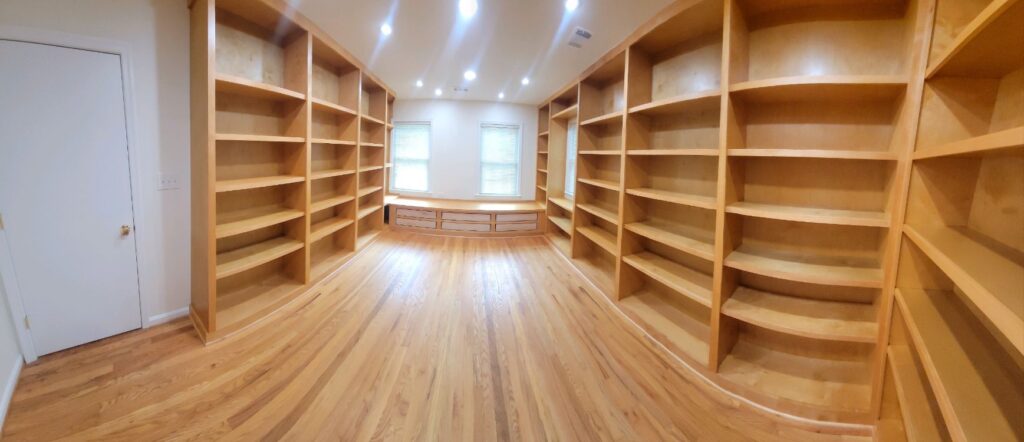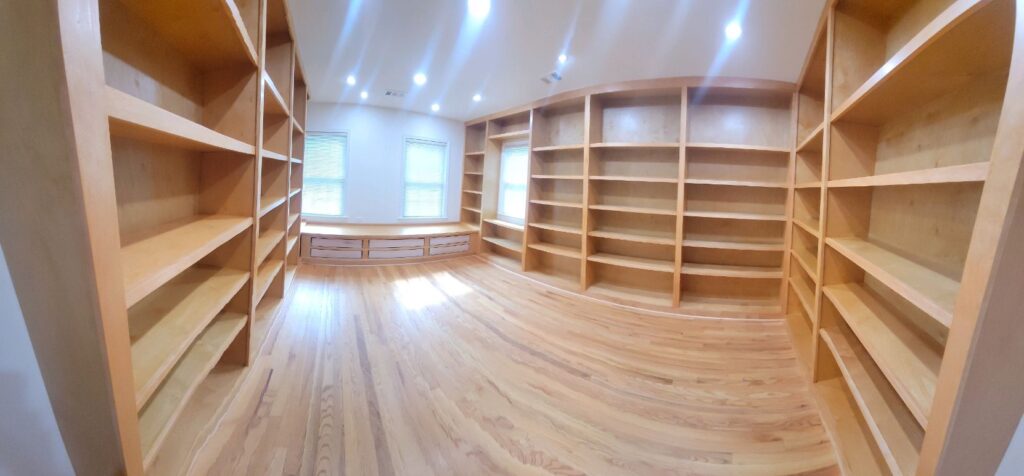 Happy Halloween Wishes!
Magazi Kitchens and Baths wishes everyone a happy Halloween 2023!
Working With Magazi Kitchens and Baths
Magazi Kitchens and Baths and A.G. Building and Remodeling will work with you to meet your budget and accomplish improvements that will make a statement and allow you to enjoy your space. Relying on 30 years of experience with kitchen and bath planning and remodeling, Magazi Kitchens & Baths works with you to understand your dream for the space. By combining the talents of a designer and installer that work together every step of the way, we ensure your project is built in the most efficient and economical way. Our work spans Montgomery, Howard, Baltimore, and Anne Arundel Counties, including the towns of Bethesda, Silver Spring, Rockville, Kensington, Olney, Gaithersburg, Columbia, Ellicott City, Annapolis, and more. 
Contact us at 301-674-3913, and be sure to follow us on Facebook, Twitter, and LinkedIn!