Countertops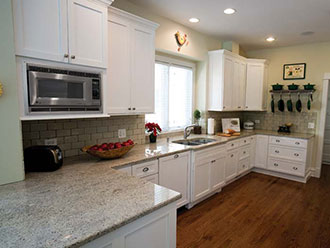 Kitchen countertops are like the centerpiece of the kitchen. Considering the kitchen is, in essence, the centerpiece of your home, getting your countertop choice right is essential. Luckily, the kitchen remodeling experts at Magazi Kitchens & Baths have more than 30 years of experience helping homeowners choose kitchen countertops that bring an entire kitchen design together and offer functionality and durability as well.
Magazi Kitchens & Baths and AG Building & Remodeling has a unique approach to our kitchen design process, working together as designer and installer to make the process as stress-free, efficient, and economical as possible for our clients. We listen to your needs and gain an understanding for how you plan to use the space, as well as what types of kitchen designs are most appealing to you. We use this knowledge to make informed recommendations about what type of kitchen countertop will be best suited to complete your custom kitchen design.
Quartz Kitchen Countertops
Today Quartz countertops are preferred for they are practically maintenance free and are resistant to stains, scratches, impact, and heat. Unlike natural stone countertops, their naturally non-porous surface means they don't need to be sealed. Quartz countertops are available in a huge range of colors and patterns, to complete any kitchen design – from modern to traditional.
Granite Kitchen Countertops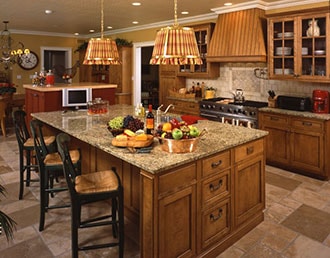 Granite is a popular choice for kitchen countertops, thanks to its exceptional durability and high-end look and feel. The variation in the patterns of the stone makes granite highly appealing as a design element. Keep in mind that granite requires more maintenance than quartz. Stains should be wiped up quickly and the surface if sealed properly will resist most stains. It depends on the use as to how often it is sealed.
Marble Kitchen Countertops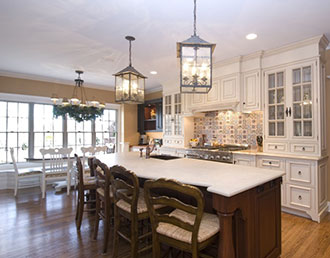 The natural veining patterns of marble make for a completely unique and aesthetically-pleasing design choice. Marble has a timeless appeal that makes it an excellent centerpiece for traditionally-styled kitchen designs. Marble is porous and requires special attention to avoid stains, as well as regular sealing.
Homeowners throughout Montgomery, Howard, Baltimore, and Anne Arundel Counties, including the towns of Bethesda, Silver Spring, Rockville, Chevy Chase, Kensington, Gaithersburg, Olney, Ellicott City, Columbia, and Annapolis and more have turned to Kitchens & Baths for help choosing their kitchen countertop.
Choosing your new kitchen countertop starts with your free consultation which can be held in your home or in our showroom. We'll start by talking over how you plan to use the space we'll give you honest advice based on more than 30 years as custom kitchen remodelers. Call us at 301-913-0286 or contact us today to get started.