Bath Additions
A bath addition can add significant value to any property if the bath is remodeled in an appealing, functional way. There are many reasons to expand your home with added bathroom space. Perhaps your family has outgrown your current bathroom area, and you want to add a new family-sized bathroom complete with a full-sized tub or large shower area and multi-use sink area. You may be adding a master bath suite to give yourself that elegant escape within your home.
When creating a bathroom addition, the first step is to understand how the addition will work within the entire home. A bathroom may be being enlarged within an existing home structure, simply taking away space from another area of the home. We also often complete bathroom additions as part of a basement remodel, where a portion of the new basement design is set aside as a new or improved bathroom space. The new bathroom addition could also be part of a whole house addition, such as the addition of a second floor or an expansion of the home.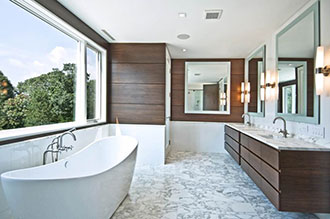 One essential consideration when creating a bathroom addition is whether the necessary plumbing exists. If the addition involves expanding upon an existing bathroom, it's likely that all the plumbing needed to complete the addition will already be in place. If, however, you're placing a brand new bath addition into a space where no bathroom has existed before, then new plumbing will have to be installed. This will add to the cost and involvement of the project, but is still something that can be accomplished in nearly any setting.
The professionals at Magazi Kitchens & Baths and AG Building & Remodeling will work with you from start to finish to recommend smart choices for your bathroom addition. Because our designer, Mary, and our installer, George, work together throughout the entire bathroom remodeling process, you can count on the design and installation to be efficient and economical.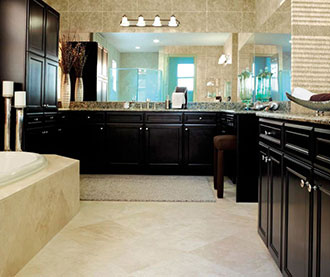 Homeowners throughout Montgomery, Howard, Baltimore, and Anne Arundel Counties, including the towns of Bethesda, Silver Spring, Rockville, Chevy Chase, Kensington, Gaithersburg, Olney, Ellicott City, Columbia, Annapolis, and more choose Magazi-AG for their bathroom addition.
Starting on your bathroom addition begins with your free consultation, which can take place in your home or in our showroom. We'll meet with you to discuss your vision for the bathroom, both aesthetically and functionally, and give you honest advice based on 30-plus years of bathroom remodeling. Call us at 301-913-0286 or contact us today to get started.