History & The Team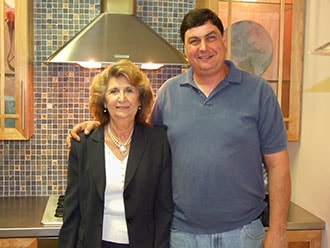 For more than 30 years, the team behind Magazi Kitchens & Baths and AG Building & Remodeling has been creating kitchens, baths, and home remodels of all types that meet and exceed our clients' expectations. Transforming visions into beautiful, function masterpieces requires the commitment of a team of creative, knowledgeable, skilled professionals.
Working together since 1989, Mary and her son George combine their extensive knowledge and creativity to deliver superior home spaces, including kitchens, baths, in-law suites, basement remodels, family rooms, garage additions, home offices, libraries, screened porches, decks, and whole house additions. Our clients rave about the way we've turned their visions into reality, down to the finest details. Visit our testimonial page to see real reviews from satisfied clients.
Magazi Kitchens & Baths and AG Building & Remodeling is unique in that we offer a one-stop approach by combining the talents of a designer and installer that work together every step of the way. This approach makes the entire process less stressful on you, the client, and ensures that your project is built in the most efficient and economical way. We take pride in helping our clients make intelligent, informed decisions about their remodeling projects that result in beautiful, well-planned designs that are customized to meet your needs. We've built our business on integrity and we stand behind our work for the past quarter century.
George has been a licensed and insured MHIC 41859 contractor and EPA Lead Safe Certified contractor for over two decades. He manages everything from general contracting, additions, and full construction projects. We build homes from the ground up, ramblers up to 3 story homes.  Send us your architectural drawings or we can refer you to our architect. For more than 30 years, George has been bringing Mary's visions to life, crafting one-of-a-kind kitchens, baths, and home remodels that are customized to meet our clients' personal needs. With Magazi Kitchens & Baths and AG Building and Remodeling you can have peace of mind knowing that you are working with our licensed and insured team.
Our work spans Montgomery, Howard, Baltimore, and Anne Arundel Counties, including the towns of Bethesda, Silver Spring, Rockville, Kensington, Olney, Gaithersburg, Columbia, Ellicott City, Annapolis, and more.
When you're ready to start planning your exciting new kitchen, bath, or home remodel, start by contacting Magazi Kitchens & Baths or AG Building Remodeling for your free consultation. We'll start by discussing your desires for the space, offer you our honest recommendations based on 30 years of experience, and start planning the process to transform your space into everything you desire. It all begins with a free consultation, which can be held in your home or in our showroom. Call us at 301-913-0286 or contact us today to get started.