Kitchen Designs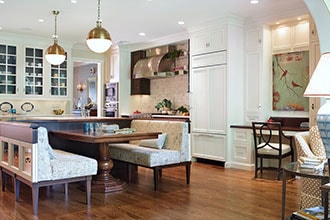 In crafting the ideal kitchen for your home, Magazi Kitchens & Baths calls on more than 30 years of experience as a custom kitchen designer. We create absolutely beautiful spaces that are fully-customized to meet the specific needs of our clients.
A kitchen designer should craft a kitchen that reflects your personal needs and tastes, whether you prefer a transitional, modern, or traditional style. There are countless design elements to consider when crafting your custom kitchen.
Kitchen Cabinets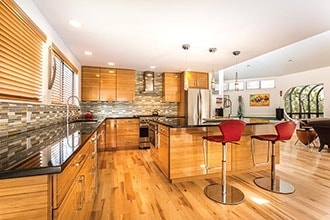 Cabinetry is perhaps the single most important element in the custom kitchen designer's arsenal. From custom to semi-custom, traditional to contemporary, there are countless cabinet styles to choose from. Neutral colors, such as gray or white, are a popular choice as they work with many kitchen styles and have a timeless design to them. They can easily be complemented with a splash of color elsewhere in the design, such as the backsplash or countertops. Of course traditional wood finishes offer a range of stains as well.
Beyond the look of your cabinets is the functionality of the cabinets themselves. Consider adding a pots and pans drawer, spice rack drawer, pantry cabinet, corner pull-out drawer, or more to make your kitchen space as functional as possible.
Craft-Maid cabinetry has a slab door in many colors and laminates and shaker style doors that have no movement so that the paint will not crack at ant joined seam. You can also order any sheen. We offer a fine line of cabinets such as handcrafted Craft-Maid cabinetry that not only manufactures beautiful Euro style cabinets with laminate, acrylic, and wood finishes but many wood stains and colors in frameless and framed door styles in traditional, transitional, and modern designs.
Bertch cabinetry manufactures traditional and transitional custom and semi-custom to contemporary cabinets with many door styles, colors, and stains. The Elan Series offers modern door styles and laminate cabinets Customized colors are available by both manufacturers. Cabinets are warranted for as long as you live in your house.
Other additional manufacturers that we carry include Aristokraft, St. Martin, and Wolfe Classic which offers limited  door styles, and stains.
Kitchen Islands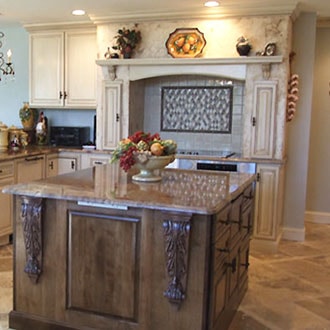 Kitchen islands are an excellent addition to any design. A custom kitchen designer can use a kitchen island to transform a space and add a completely new area for either prepping, cooking or eating. The design team at Magazi Kitchens & Baths will work with you to understand how you plan on using the space, and then customize a kitchen island with elements that will make your new kitchen design as functional as it is beautiful.
Backsplashes
Backsplashes offer the perfect design element to spice up the room with color or patterns. Glass makes a bold, modern presentation for a backsplash. Stone offers a wide range of patterns and styles to complement nearly any design. Subway tiles have a simple, smooth look that makes them ideal for more contemporary designs.
Countertops
Quartz, granite and marble are just a few options. Explore our countertops page for more detail.
Flooring
Hardwood flooring is an ideal choice when you're looking for warmth and visual appeal and you want a style that will last for decades to come. Laminate can offer many of the same visual design perks of hardwood but at a reduced price. Porcelain tiles are another superior option and offer extreme toughness and low maintenance. Tiles come in all sizes and some resemble wood flooring.
Magazi Kitchens & Baths has experience as a custom kitchen designer throughout Montgomery, Howard, Baltimore, and Anne Arundel Counties, including the towns of Bethesda, Silver Spring, Rockville, Chevy Chase, Kensington, Gaithersburg, Olney, Ellicott City, Columbia, and Annapolis.
The first step in creating your custom kitchen design is a free consultation, held at your home or in our showroom. We endeavor to exceed your expectations. Call us at 301-913-0286 or contact us today to get started.