Bath Remodeling Process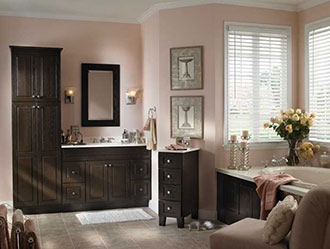 A well-designed bathroom can be like an oasis in your home. Whether it's a luxurious master bath suite, a family bathroom complete with a tub for the children, a guest bath for visiting relatives, or an elegant powder room that makes guests feel welcome in your home, Magazi Kitchens & Baths can craft the ideal bathroom to meet your needs.
We have a unique approach as bath remodelers that helps us create truly customized spaces. We begin by getting to know our clients and gaining a true understanding of what their needs are for the space. The bathroom is a deeply personal space, and one that requires a great deal of functionality. This means it's more important than ever to make sure the space is more than just visually appealing. It must meet your needs. From the shower and tub to the sink area, there are countless considerations to factor into the design of your bath remodel. Is this a family bathroom that must have a large tub for children to safely bathe in? Will it be a master bath with a luxurious spa to relax in or does it have to meet the needs for seniors? Is it a powder room that should closely complement the style and designs of the rest of your home's interior?
Our approach to the bath remodeling process begins with a free consultation, either at your home or in our showroom. Designer Mary will help you make informed decisions about every aesthetic choice, from cabinets to countertops to showers and lighting. We offer a one-stop shop by combining a designer and installer that work together throughout the entire process. Designer Mary and her son George, the installer, have partnered together as a design-build firm for more than 30 years, creating completely custom bathroom remodels. George has been a licensed and insured MHIC 41859 contractor and EPA Lead Safe Certified contractor for over 30 years, so you can trust that our team is fully licensed and insured to provide superior bath remodeling services. We strive to integrate state of the art design with lifestyle efficiency to create a true bathroom masterpiece. Our business is based on integrity and the 3 Q's: Quality Service, Quality Products, and Quality Workmanship.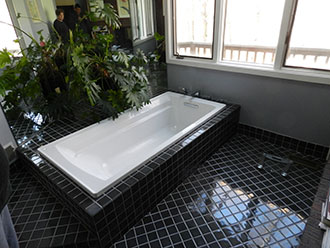 Magazi-AG has worked as a bath remodeler throughout Montgomery, Howard, Baltimore, and Anne Arundel Counties, including the towns of Bethesda, Silver Spring, Rockville, Chevy Chase, Ellicott City, Columbia, Severna Park, Olney, Gaithersburg, Kensington, and more.
The first step in the bath remodeling process is to contact us for your free consultation, which can be held at your home or in our showroom. We'll start with a discussion of your needs and wants for the bathroom, and provide design options that are based on over 30 years of crafting custom bath remodels. We endeavor to exceed your expectations. Call us at 301-913-0286 or contact us today to get started.