Interior lighting can make a huge difference in how we function throughout the day, especially now when many of us work from home. Whether you are working at home, entertaining guests, or living your daily life, interior lighting should be purposeful in its plan. What interior lighting trends will you use in 2023 and beyond?
Future-Proof Lighting Plans
A comprehensive lighting plan for your home will ensure your home's safety and functionality throughout the years, especially as you age and may not be able to see as sharply as before. As our eyes age, less light reaches them, so brighter light becomes necessary. Lighting should be uniform throughout the home, accompanied by purposeful and easy-to-reach task lighting.
Controlled LED Lighting Temperatures
Light temperature plays an important role in how we function daily. For instance, blue light helps us wake up in the morning, while warm light helps us cozy down for the evening. If parts of your home lack natural light, lighting that mimics natural daylight will help your brain wake up when it needs to. You can even set the lighting temperature on a daily schedule to be bright during the day and warm at night. This lighting trend is possible with LED lights and smart technology.
Lighting That Sets the Mood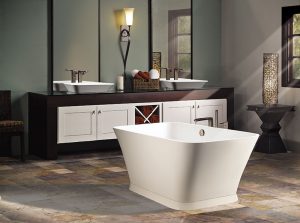 Light temperature also helps set the mood in your home; it creates an ambiance that helps you relax or feel brighter. Lighting fixtures also help set the mood. Backlighting uses LED strips to create a glow behind bookshelves, televisions, ceiling trims, and staircases, while lamps, chandeliers, and pendant lights give each room personality.
Statement Pieces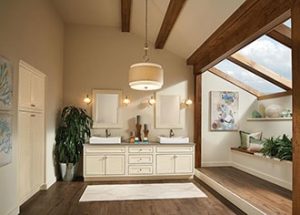 Speaking of lamps, chandeliers, and pendant lights, another interior lighting trend is using interior lighting as sculptural focal points. They can be very creative and complement a given interior design style. You can find anything from retro to industrial to farmhouse to traditional lighting pieces.
Traditional Lighting Is Here to Stay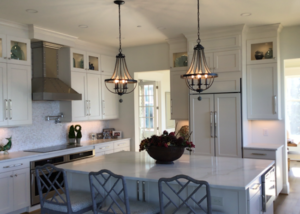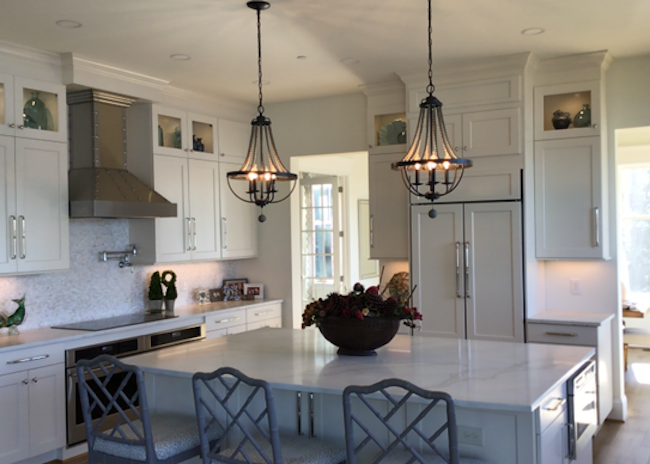 Are the staple pendant lights and chandeliers out of style? By no means! Pendant lights in kitchens are here to stay as well as traditional or period lighting fixtures for both old and new homes.
Working With Magazi Kitchens and Baths
Magazi Kitchens and Baths and A.G. Building and Remodeling will work with you to meet your budget and accomplish improvements that will make a statement and allow you to enjoy your space. Relying on 30 years of experience with kitchen and bath planning and remodeling, Magazi Kitchens & Baths works with you to understand your dream for the space. By combining the talents of a designer and installer that work together every step of the way, we ensure your project is built in the most efficient and economical way. Our work spans Montgomery, Howard, Baltimore, and Anne Arundel Counties, including the towns of Bethesda, Silver Spring, Rockville, Kensington, Olney, Gaithersburg, Columbia, Ellicott City, Annapolis, and more. 
Contact us at 301-674-3913, and be sure to follow us on Facebook, Twitter, and LinkedIn!