With new design ideas such as an eye-catching tub, curve line, bold accents, and earthy colors, it is easy to create your personal style. Instead of all-white color tones in the kitchen or bathroom, adding a dark color adds dimension to a space and is a perfect backdrop for metallic accents. Depending on your style an unconventional color can turn a room into your personal space. You could also add a honey-toned wood cabinet for contrast and warmth.
Add Texture
Introduce different textures in your home such as rattan, fluted details, and bold tiles. Patterned wood on cabinets, floors, and doors achieves an inviting feeling. There are eye-catching choices that bring out a sense of depth and character. Bold finishes such as brushed gold or matte black accents blend in any décor and add a modern touch.  In the bathroom or kitchen, add these finishes along with other metals such as polished brass or brushed nickel.
Emphatic Lighting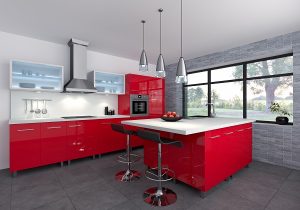 Make a statement with your lighting fixtures.  Chandeliers over eating areas or pendants in the island can act as a room centerpiece.  A lighting fixture can accessorize your space such as a fun-loving or attention-grabbing fixture in your bathroom or kitchen. Lighting controls ambiance and sets the tone for your space. Curved archways in doorways or accent walls along with mirrors or lighting direct a visual flow in the home.
A More Homey Feel
As we are spending more time in our homes, consider adding a wet or dry bar in your space or finish your basement as a game or movie room to relax and have more fun. Whatever style, addition, or item your add to your home, make it something you will love and enjoy every day.
Working With Magazi Kitchens and Baths
Magazi Kitchens and Baths and A.G. Building and Remodeling will work with you to meet your budget and accomplish improvements that will make a statement and allow you to enjoy your space. Relying on 30 years of experience with kitchen and bath planning and remodeling, Magazi Kitchens & Baths works with you to understand your dream for the space. By combining the talents of a designer and installer that work together every step of the way, we ensure your project is built in the most efficient and economical way. Our work spans Montgomery, Howard, Baltimore, and Anne Arundel Counties, including the towns of Bethesda, Silver Spring, Rockville, Kensington, Olney, Gaithersburg, Columbia, Ellicott City, Annapolis, and more. Be sure to follow us on Facebook, Twitter, and LinkedIn!