To choose the vanity that will complement or stand out in your bathroom, you need to have a theme. The theme you are trying to create can be anything from traditional to transitional to contemporary. However, there are many door styles, the most popular being a shaker or slab door, which offers clean and sleek lines. Configurations vary, including two doors, doors and drawers combo, furniture style with legs, an open bottom shelf, or a wall-hung vanity. 
Create a Focal Point
Any bathroom can accommodate a vanity, and choosing a functional vanity that is on-trend can make a small bathroom look stylish. Color, shape, and attention to detail can make a vanity the focal point of the bathroom, no matter the size, from the largest to the smallest one. 
Consider Colors & Features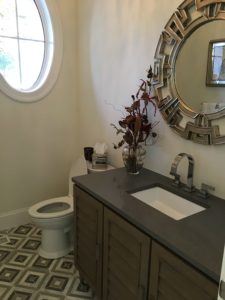 The most popular color today being white or grey, however, blues and greens with brushed gold hardware make the bathroom a sparkling oasis. Pull-out accessories and drawers to accommodate blow dryers and makeup create ideal storage. 
Consider the Material
The cost of the vanity can vary depending on the material and construction. Particleboard is not a lasting material, and anything less than 12″ thick will show signs of wear and tear faster. MDF (medium density fiber) is not as good as plywood. Still, it is the best material if you are painting the vanity, as it will not show cracks from moisture. The best drawers are dovetail, self-closing with bottom-mount runners. 
Count the Cost
Although all vanities are basically made the same way, not all are created equal. Costs vary, and although it depends on your budget, it is important to know what you are purchasing. 
Working With Magazi Kitchens and Baths
Magazi Kitchens and Baths and A.G. Building and Remodeling will work with you to meet your budget and accomplish improvements that will make a statement and allow you to enjoy your space. Relying on 30 years of experience with kitchen and bath planning and remodeling, Magazi Kitchens & Baths works with you to understand your dream for the space. By combining the talents of a designer and installer that work together every step of the way, we ensure your project is built in the most efficient and economical way. Our work spans Montgomery, Howard, Baltimore, and Anne Arundel Counties, including the towns of Bethesda, Silver Spring, Rockville, Kensington, Olney, Gaithersburg, Columbia, Ellicott City, Annapolis, and more. Be sure to follow us on Facebook, Twitter, and LinkedIn!