The home office, bathroom, and laundry room take the biggest hit for clutter. It's easy for these spaces to become disorganized fast! Here are some ideas to declutter your home. 
Home Office 
Keep your workspace clear and functional by throwing away unsightly cords. Add a file folder to organize your papers and clear off your desk. Perhaps you have room in a corner for an additional storage cabinet. A picture will create a beautiful and organized home office. 
Bathroom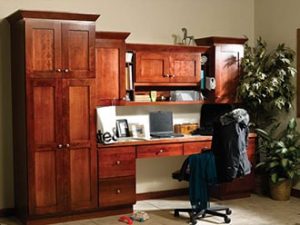 Baskets are a great way to store towels, toilet paper, and toiletries. Discard expired medications and skin products, and make a list of essentials that you personally need. Add a rolling tray under the sink for easy access to cleaners, sprays, etc. Over the toilet, add a medicine cabinet to maximize storage and accessibility. If your bathroom looks outdated, you may want to replace the tiles with a more updated style, whether it is a colorful geometric or something modern and sleek, depending on your taste. 
Laundry Room 
Doing the laundry may not be your favorite chore, but making the laundry room more cheerful makes clothes washing easier. Placing cabinets over your washer and dryer to store detergents, soaps, and fabric softeners that are easy to reach helps declutter your home. If you have front-loading machines, add a countertop over the washer and dryer so that you can fold the clothes as they come out of the dryer. Paint the room a bold color, add fun hardware, or add new tile in the laundry room to make the tasks more enjoyable. 
Start decluttering these rooms today, and you will be happy that you did. 
Working With Magazi Kitchens and Baths
Magazi Kitchens and Baths and A.G. Building and Remodeling will work with you to meet your budget and accomplish improvements that will make a statement and allow you to enjoy your space. Relying on 30 years of experience with kitchen and bath planning and remodeling, Magazi Kitchens & Baths works with you to understand your dream for the space. By combining the talents of a designer and installer that work together every step of the way, we ensure your project is built in the most efficient and economical way. Our work spans Montgomery, Howard, Baltimore, and Anne Arundel Counties, including the towns of Bethesda, Silver Spring, Rockville, Kensington, Olney, Gaithersburg, Columbia, Ellicott City, Annapolis, and more. Be sure to follow us on Facebook, Twitter, and LinkedIn!