There are many types of lighting fixtures for the comfort of your home such as ambiance, task, and accent. Ambient lighting is used in your living room and are typically overhead ceiling lights which are generally centered in the room or in larger rooms multiple fixtures could be used.  Task lighting provides focused illumination for a specific reason such as a vanity light to assist in shaving or applying your makeup. It isn't meant to cast light throughout your space.  Accent lighting is mostly decorative and is used to draw attention to a particular area such as a painting or a chandelier in a dining room.
Different Styles of Lighting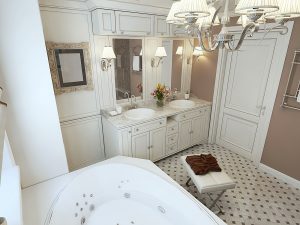 There are different styles of lighting.  Chandeliers are usually the largest type of indoor lighting and serve a dual purpose – ambiance, and as a centerpiece. Pendants suspend from the ceiling either by a cord, chain, or rod and usually have either a single or two bulbs.  They project light downward and are often used above a bar, kitchen sink, or island. Flush mount lights sit up against the ceiling and are generally used to light up the hallways.  Semi-flush lights sit a few inches away from the ceiling to give a decorative flair.  Scones are mounted to the wall with a decorative backplate and are generally used in pairs, such as on each side of a mirror in the hallway or bathroom.  They serve as ambient, accent, and task lighting.  Vanity lights are a row of lights that are centered over a mirror or medicine cabinet in the bathroom.  It should not be any wider than the width of your vanity cabinet. It may be used along with a ceiling mount fixture or recessed ceiling lights.
Using Lighting Technology
Dimmers can be used to dim or brighten the lighting.  LED bulbs give a brighter, more efficient, and longer-lasting glow.  You can replace your standard halogen or incandescent bulbs with LED bulbs.  With today's technology, you can voice activate your lighting.  Residential lighting can illuminate a bathroom, kitchen, or any area and highlight decorative features throughout your home.  Whatever the purpose, our design team can help you choose the right light for your space both functionally and aesthetically.
Happy Holidays from Magazi Kitchens and Baths!
May your heart and home be filled with JOY this holiday season and throughout the coming New Year!
Working With Magazi Kitchens and Baths
Magazi Kitchens and Baths and A.G. Building and Remodeling will work with you to meet your budget and accomplish improvements that will make a statement and allow you to enjoy your space. Relying on 30 years of experience with kitchen and bath planning and remodeling, Magazi Kitchens & Baths works with you to understand your dream for the space. By combining the talents of a designer and installer that work together every step of the way, we ensure your project is built in the most efficient and economical way. Our work spans Montgomery, Howard, Baltimore, and Anne Arundel Counties, including the towns of Bethesda, Silver Spring, Rockville, Kensington, Olney, Gaithersburg, Columbia, Ellicott City, Annapolis, and more. Be sure to follow us on Facebook, Twitter, and LinkedIn!