Many homeowners today are seeking a modern kitchen design with simple lines or sleek slab doors with either no pulls or slim cylinder pulls. In a modern kitchen, each cabinet serves a purpose and is uncluttered, with neutral colors and textures. The grain on the wood cabinets can either be horizontal or vertical. Windows open up the space and contribute to a more spacious feel.
Color Palette
The color palette for a modern kitchen has whites, grays, blacks, and natural woods or stains. Accent colors such as red, black, or yellow can be used to draw attention. Wall and base cabinets can be two different colors, or the island can be a different color or a stained wood. Modern finishes in the kitchen include stainless, chrome, black, or the new brass.
Warmer decorative touches can be used to create other kitchen designs, such as a modern farmhouse kitchen.
Maximized Storage Space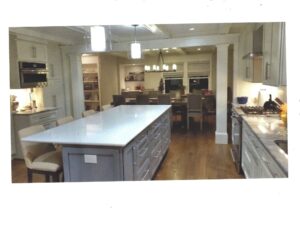 To maximize space and convenience, one can select base cabinets with drawers, rollout shelves, pullout organizers, and compartments. You can also use a flip-up door cabinet with a pulldown storage area to make a statement on the wall. Bringing some wall cabinets down to the countertop with glass doors can also maximize your storage space according to your needs.
Final Touches
Hardware should be straight with angular or cylinder lines or industrial handles. Use LED under-cabinet task lighting and pendant lights to add natural light to the kitchen. Avoid lanterns or crystal chandeliers. To top off your modern, sleek kitchen, choose a quartz countertop with minimal veining.
The Modern Kitchen in a Nutshell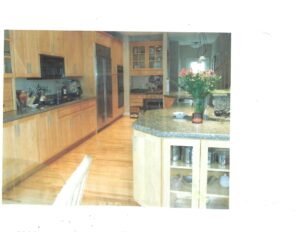 A modern style kitchen is different from a contemporary one as it does not rely on what designs are trending at the moment and can change with the times. It has a distinct look with clean lines, neutral colors, and optimized function.
A Magazi Modern Kitchen
A modern kitchen designed and installed by Magazi Kitchens and Baths and A.G. Building and Remodeling will look as stylish ten years from now as it does today.
Working With Magazi Kitchens and Baths
Magazi Kitchens and Baths and A.G. Building and Remodeling will work with you to meet your budget and accomplish improvements that will make a statement and allow you to enjoy your space. Relying on 30 years of experience with kitchen and bath planning and remodeling, Magazi Kitchens & Baths works with you to understand your dream for the space. By combining the talents of a designer and installer that work together every step of the way, we ensure your project is built in the most efficient and economical way. Our work spans Montgomery, Howard, Baltimore, and Anne Arundel Counties, including the towns of Bethesda, Silver Spring, Rockville, Kensington, Olney, Gaithersburg, Columbia, Ellicott City, Annapolis, and more. Be sure to follow us on Facebook, Twitter, and LinkedIn!