Kitchens today can come with gadgets and appliances of all kinds; they can be as specific or general as you need them to be. Kitchens are all about storing and preparing food and beverages, so how can you make the most of your kitchen's food storage? Refrigeration plays a key role, and you can find multiple options for your kitchen. Check out these kitchen refrigerator types to keep your provisions cool all year long!
Traditional Refrigerator
Most homes with two or more inhabitants will have a regularly-sized refrigerator. Fridges today come in multiple styles, namely:
Top-freezer

Bottom-freezer

Side-by-side

French door

Compact

Counter-depth
You can also opt for a fridge with smart home capabilities, with a screen showing the inside of your fridge, the weather, your digital grocery list, etc. Most people still love stainless steel refrigerators, but you can also find them in different colors or with paneling.
Undercounter Refrigerator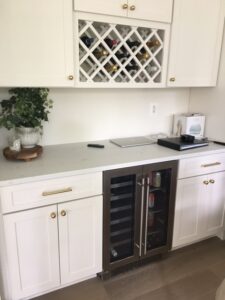 Do you need extra cold food and drink storage, or want to make the most of a small apartment? An undercounter refrigerator is your friend. It can sit smartly under your kitchen counter or under the kitchen island. A convenient location will give you easy access to snacks, party food, ingredients, etc.
Chest Freezer
A chest freezer is an excellent appliance for storing long-term and emergency frozen foods. It is also great for preserving bulk items, like a particularly large piece of meat. A chest freezer could be in your kitchen, but other common places for it would be the basement or garage.
Ice Maker
Does your household use a lot of ice? You might use ice for drinks, smoothies, and cooking. If you need loads of ice cubes, an ice maker could help you keep up with demand. They can be portable or built into your kitchen.
Wine and Beverage Refrigerator
Last but not least, a wine refrigerator or a beverage refrigerator will perfectly preserve your fine beverages with the correct humidity and temperature. They will also help keep the temperature consistent. If the need arises, consider building this kitchen refrigerator type into your new kitchen.
Happy Fourth of July from Magazi Kitchens & Baths!
Working With Magazi Kitchens and Baths
Magazi Kitchens and Baths and A.G. Building and Remodeling will work with you to meet your budget and accomplish improvements that will make a statement and allow you to enjoy your space. Relying on 30 years of experience with kitchen and bath planning and remodeling, Magazi Kitchens & Baths works with you to understand your dream for the space. By combining the talents of a designer and installer that work together every step of the way, we ensure your project is built in the most efficient and economical way. Our work spans Montgomery, Howard, Baltimore, and Anne Arundel Counties, including the towns of Bethesda, Silver Spring, Rockville, Kensington, Olney, Gaithersburg, Columbia, Ellicott City, Annapolis, and more. 
Contact us at 301-674-3913, and be sure to follow us on Facebook, Twitter, and LinkedIn!