The bathroom is a place to relax and get clean. It is perhaps one of the most refreshing rooms of the house! Whether you need bathroom design ideas for your secondary bathroom, basement bathroom, or master bathroom, the bathtub can be the centerpiece. You don't have to go boring; check out all the types of exquisite bathtub styles you could use.
Alcove Tubs/Shower Combos
An alcove tub is a bathtub that fits snugly into a recessed nook in the bathroom wall; only one side of the tub is finished. This bathtub style is the most popular kind in the United States. It is simple but effective, space-saving, and often pairs with a showerhead.
Corner Tubs
The corner tub gives the bathroom a sense of luxury. Like the alcove tub, it only has one finished side. This side could be rounded, straight, or angular. These bathtubs are often separate from the shower, but not always. 
Drop-In Tubs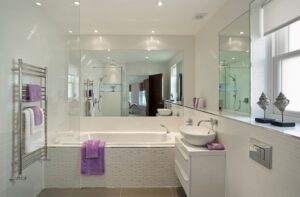 Drop-in tubs have no finished sides; they drop right into the tiled structure surrounding it, which typically goes from wall to wall. You can have enough counter space on all sides to put your shampoos, soaps, and spa items. 
Freestanding Bathtubs
Freestanding bathtubs are one of the most elegant bathtubs of all time. They come in all kinds of styles, from vintage clawfoot tubs to modern boat-shaped ones. You can find them in different materials, like copper, stone, acrylic, and cast iron.
Walk-In Bathtubs
Walk-in bathtubs are best for those concerned about safety from slip-n-falls. These sleek tubs come with a door that allows you to walk right in, sit down, and have a relaxing bath. They are typically alcove tubs and most appealing to those with mobility issues. They can also have features like jets and heated surfaces.
Soaking Tubs
The Japanese soaking tub is making its way into homes globally. This short and deep bathtub is perfect for the ultimate soak. It is typically freestanding and can include a shower; some versions are sunken.
Bathtubs with Jets
A whirlpool, water jet, or air jet tub can take on practically any of the bathtub styles mentioned above. It is well worth it for a relaxing, spa-like experience and can be your at-home hydrotherapy.
Working With Magazi Kitchens and Baths
Magazi Kitchens and Baths and A.G. Building and Remodeling will work with you to meet your budget and accomplish improvements that will make a statement and allow you to enjoy your space. Relying on 30 years of experience with kitchen and bath planning and remodeling, Magazi Kitchens & Baths works with you to understand your dream for the space. By combining the talents of a designer and installer that work together every step of the way, we ensure your project is built in the most efficient and economical way. Our work spans Montgomery, Howard, Baltimore, and Anne Arundel Counties, including the towns of Bethesda, Silver Spring, Rockville, Kensington, Olney, Gaithersburg, Columbia, Ellicott City, Annapolis, and more. 
Contact us at 301-674-3913, and be sure to follow us on Facebook, Twitter, and LinkedIn!