Universal design is not only for the elderly but for all ages. Families have members of all ages, sizes, and abilities. It is being able to live in your home comfortably and safely regardless of age. More and more homeowners are looking to create a more inclusive design in their homes so that everyone can enjoy the space equally. When it comes to completely remodeling your home, there are a few key features for every homeowner to focus on.
Wider Doorways
Wider doorways are extremely useful for people who live with elderly relatives. Wider doorways allow for individuals who have wheelchairs or other equipment easier access to any space.
Eliminating Steps To Your Front Door
Creating a home that can be used by everyone is important, especially for those who love to entertain. In fact, designing a proper ramp or entirely eliminating any steps to your front door is an excellent way to ensure that everyone can make it in your home safely and without any issues.
Lower Electrical Outlets For Easy Reach For Children And Elderly
Creating a safe home should always be at the forefront of any homeowner. In fact, being mindful of where electrical outlets are located is essential if your home has any children or elderly members. As a result, making electrical outlets lower than normal can allow for everyone in the family to be able to reach them without hassle.
A Lower Kitchen Area
Having a kitchen area with a lower countertop that allows for the little ones to help cook or provides easy access for family members who are in a wheelchair. In fact, adding drawers and cabinets to this lower space provides wheelchair-bound individuals with easy access to everything around the home.
A Bathroom With Seats In The Shower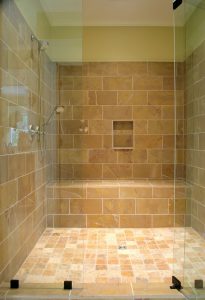 When it comes to the bathroom, there are a lot of designs that can be used for any age. One, in particular, is in-shower seats. This unique design feature works for both young and old. In fact, seating for walk-in showers is an excellent design tool that every homeowner should consider when creating a universal design. Another unique bathroom design that works for young and old are curbless entry showers. A walk-in shower that avoids a curb makes it a lot easier for anyone to easily get themselves in the shower without worrying about hurting themselves.
Create A Home You Love With Magazi Kitchens And Baths
Magazi Kitchens and Baths and A.G. Building and Remodeling will work with you to meet your budget and accomplish improvements that will make a statement and allow you to enjoy your space. Relying on 25 years of experience with kitchen and bath planning and remodeling, Magazi Kitchens & Baths works with you to understand your dream for the space. By combining the talents of a designer and installer that work together every step of the way, we ensure your project is built in the most efficient and economical way. Our work spans Montgomery, Howard, Baltimore, and Anne Arundel Counties, including the towns of Bethesda, Silver Spring, Rockville, Kensington, Olney, Gaithersburg, Columbia, Ellicott City, Annapolis, and more. Be sure to follow us on Facebook, Google +, Twitter, and LinkedIn!