Selecting the perfect kitchen sink can be a lot harder than you think. In fact, finding the perfect kitchen sink can be quite the overwhelming experience for a new homeowner or someone new to design. Here is a handy guide for when you are trying to determine in you want a farm sink or a stainless steel sink in your kitchen.
Choosing A Kitchen Sink
Some of the things to consider in selecting a kitchen sink are the style of your kitchen, cabinet colors, and the countertop material and color. If this is a new construction or remodel your choices are unlimited, but if you are replacing a sink in an existing cabinet,there are limits as to size, style, and material. What design and functional features are important to you and also is maintenance a consideration play into your decision. For daily use, a single bowl is very popular and come in various sizes, depth (up to 12" deep) and mounting options.  However, if you entertain a lot, a double bowl is the better choice.  The drain can be centered or offset which allows for easier stacking. Deeper bowls allow for more soaking and rinsing area, and a flat bottom sink provides stacking space.
Kitchen Sink Materials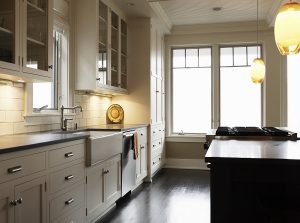 Stainless Steel:  Most people prefer stainless steel sinks as there are many price points and multiple choices of sizes and configurations. They can be mounted over the countertop which leaves an edge where food can be trapped when wiping crumbs from the counter to the sink or under mounted leaving a smooth edge.  It is available in a satin or high luster finish and is corrosion resistant.  Be sure that the gauge of the sink is not greater than 20 gauge as it will dent and lose its luster.
Porcelain Sinks: The advantage of a porcelain sink is that you have many choices of color and shapes to match your decor.  A cast-iron base does not hold hot water for very long. The enamel can chip and is hard to repair if exposed. It is easy to clean, shows fewer water spots and has excellent resistance to light, fading, and staining.
Fire-Clay Sinks: Fire-clay sinks consist of molded clay with a porcelain enamel which is placed in a kiln at an extreme high temperature (2000 degree F +) for up to 20 hours.  It is easy to clean, can withstand heavy use, will not rust and is resistant to scratching, chipping, and discoloring.  It comes in one color (white) and is used mostly for farm sinks.
Copper Sinks: They have an "Old World" look, and copper is a natural anti-bacterial material.  It comes in many sizes, shapes, and depths; however, copper is soft and can dent easily. Copper has a low melting point so no hot pots in the sink. Also, it requires more maintenance.
Natural Stone Sinks: Natural stone sinks include materials such as quartz, granite, soapstone, and limestone which can coordinate with the countertop to appear integrated. Depending on the stone, it can be porous and stain easily and should be sealed.
Whatever sink you choose make sure it matches your lifestyle and blends in with your decor. An important part of our design services is to assist our clients in choosing a sink that matches their vision.
Create A Home You Love With Magazi Kitchens And Baths
Magazi Kitchens and Baths and A.G. Building and Remodeling will work with you to meet your budget and accomplish improvements that will make a statement and allow you to enjoy your space.Relying on 25 years of experience with kitchen and bath planning and remodeling, Magazi Kitchens & Baths works with you to understand your dream for the space. By combining the talents of a designer and installer that work together every step of the way, we ensure your project is built in the most efficient and economical way. Our work spans Montgomery, Howard, Baltimore, and Anne Arundel Counties, including the towns of Bethesda, Silver Spring, Rockville, Kensington, Olney, Gaithersburg, Columbia, Ellicott City, Annapolis, and more. Be sure to follow us on Facebook, Google +, Twitter, and LinkedIn!