If selecting the best flooring option for your home brings stress and anxiety, look no further than this helpful guide to steer you in the right direction. With so many different options available, it's no wonder many homeowners are left struggling to decide what the best choice is for their particular needs. Here are just some of the most common flooring options on the market and the best ways to use them throughout your home.
Hardwood Floors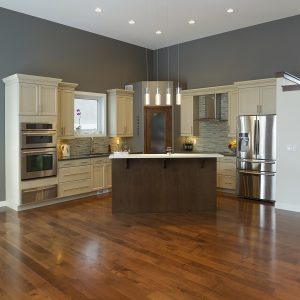 Hardwood flooring is a favorite especially when the boundaries between the kitchen and living areas disappear.  Other flooring categories try to emulate the natural look of wood flooring; however, one has to agree that there is nothing like a beautiful hardwood floor.
Today there are longer, wider engineered boards with striking visuals and surface finishes. Oil and wire brushed finishes bring out the natural wood grain.  As a result, wood stains are moving toward warmer tones such as gray or clear finishes with a hint of white. Therefore, if you are looking for some contrast, consider staining floors in a dark brown shade for a cohesive aesthetic.
Porcelain Tiles
Large porcelain tiles can be used in various rooms of the home.  Even in the bathroom larger tiles use less grout and gives a more harmonious appearance. Though the wood look is still popular more patterns are being used more frequently.  These days, high definition printing gives an ultra-realistic look of stone and marble at a much lower cost.
Luxury Vinyl
Flooring choices have grown beyond wood, tile, and laminate. Luxury vinyl has become a popular option due to its impressive performance and design capabilities. Sharp visuals, waterproof features and more flexible installation options help to grow its demand. Luxury vinyl tile/planks (LUT/P) is still widely accepted; however, wood plastic composites (WPC) with improvements in dimensional stability and dent resistance is often a better choice even though it costs more.
At the end of the day you want to look at your options and choose the flooring that best suits your home and your family.
Find Flooring Options You Love With Magazi Kitchens And Baths
Magazi Kitchens and Baths and A.G. Building and Remodeling will work with you to meet your budget and accomplish improvements that will make a statement and allow you to enjoy your space. Relying on 25 years of experience with kitchen and bath planning and remodeling, Magazi Kitchens & Baths works with you to understand your dream for the space. By combining the talents of a designer and installer that work together every step of the way, we ensure your project is built in the most efficient and economical way. Our work spans Montgomery, Howard, Baltimore, and Anne Arundel Counties, including the towns of Bethesda, Silver Spring, Rockville, Kensington, Olney, Gaithersburg, Columbia, Ellicott City, Annapolis, and more. Be sure to follow us on Facebook, Google +, Twitter, and LinkedIn!
Save
Save
Save