In designing the kitchen island most of the attention is given to the central cabinets such as a sink base, dishwasher, microwave, cooktop, and storage cabinets, just to name a few. But what about the end of the kitchen island?  Depending on how much space you have around the cabinets you have selected, you have a variety of options for display and storage. Here are a few ideas to use for your new kitchen design.
Tilt-Out Bins With Glass Fronts
Ideal to display beans, potatoes, and candy, tilt-out bins can really be a useful storage solution in your kitchen. In fact, having optimal storage solutions in your kitchen is typically ideal for large families with limited space.
A Wine Rack Or Wine Cubes
Storing your favorite bottle of wine, just a got whole lot easier. In fact, whether you are an occasional wine enthusiast or enjoy to sip a glass with dinner every night, there are modern storage options that you can use in your kitchen design!
Open Shelves Make All The Difference
The best use for open shelves is to store all of your cookbooks. You may even consider that using an extended bottom shelf on the end of your kitchen island is the perfect place for your pet's bowl.
Pull-Out Spice Racks
We all have a variety of spices that seem to need an entirely organized space to live. Why not design your kitchen island with this genuine need in mind. Creating a pull-out spice rack on the end of your kitchen island can really do wonders for the home cook who wants her spices readily available while cooking but also easily hidden while entertaining.
A 12" Deep Cabinet For Storage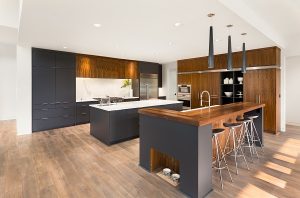 It's hard to not get excited about storage. Having deep cabinets at the end of your kitchen island can really do wonders for your overall organization. In fact, having cabinets with glass doors to show specialty glassware, statues or serving pieces can be a unique and creative way to use your kitchen island.
Magazi Kitchens and Baths and A.G. Building and Remodeling will help you get your creative juices flowing in your kitchen and throughout your home.
Create A Kitchen Design You Love With Magazi Kitchens And Baths
Magazi Kitchens and Baths and A.G. Building and Remodeling will work with you to meet your budget and accomplish improvements that will make a statement and allow you to enjoy your space. Relying on 25 years of experience with kitchen and bath planning and remodeling, Magazi Kitchens & Baths works with you to understand your dream for the space. By combining the talents of a designer and installer that work together every step of the way, we ensure your project is built in the most efficient and economical way. Our work spans Montgomery, Howard, Baltimore, and Anne Arundel Counties, including the towns of Bethesda, Silver Spring, Rockville, Kensington, Olney, Gaithersburg, Columbia, Ellicott City, Annapolis, and more. Be sure to follow us on Facebook, Google +, Twitter, and LinkedIn!
Save