Creating a finish is a very difficult process that involves extensive research and studying current trends.  Getting the final product to the market takes engineering and testing. The top finishes that are trending are as follows:
1)  Matte Black
Matte black provides a sleek, timeless and sophisticated look. Matte Black Stainless appliances compliment most kitchens. In the kitchen or bathroom, a Matte Black fixture creates a contemporary décor. Matte Black kitchen cabinets and vanities provide a sleek and elegant look.
2. Stainless Steel 
Stainless steel is a classic finish that is very popular in appliances and fixtures as it creates a cohesive kitchen design.  Even though this finish is more expensive, today many bathroom fixtures are offered in this timeless finish as it does not show water marks.
3. Warm Metallics
Warm metallics such as copper, brass, and bronze are prevalent in appliances, cookware and fixtures. A new metal finish which Kohler has launched called "Ombre" combines a rose gold finish to a vibrant polished nickel or a vibrant titanium.  These metals add a warm subtle decorative effect. A copper farm sink or a bronze vanity sink is a unique way to have an outstanding feature in the room.
4. Vibration Brushed Metals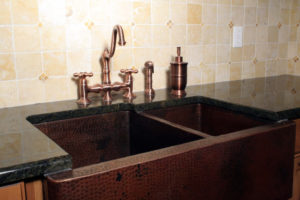 We are all used to seeing brushed chrome, stainless steel, and nickel finishes.  Now there is a trend towards vibration – brushed metals low or gloss metallics as they transmit a raw authentic material
We at Magazi Kitchens and Baths and AG Building and Remodeling in designing your kitchen and bath use a mixture of materials and finishes to create an interesting and outstanding appearance.
Working With Magazi Kitchen and Baths
Magazi Kitchens and Baths and A.G. Building and Remodeling will work with you to meet your budget and accomplish improvements that will make a statement and allow you to enjoy your space. Relying on 25 years of experience with kitchen and bath planning and remodeling, Magazi Kitchens & Baths works with you to understand your dream for the space. By combining the talents of a designer and installer that work together every step of the way, we ensure your project is built in the most efficient and economical way. Our work spans Montgomery, Howard, Baltimore, and Anne Arundel Counties, including the towns of Bethesda, Silver Spring, Rockville, Kensington, Olney, Gaithersburg, Columbia, Ellicott City, Annapolis, and more. Be sure to follow us on Facebook, Twitter, and LinkedIn!