With the weather having so few cold days and many warm days, we begin thinking about outdoor living, entertaining and of course, barbecuing. Outdoor grills, kitchens and living areas complete a home. Once you have decided on the layout of your outdoor kitchen, you can begin shopping for the best grill, with or with side burner, cabinets and seating options. The layout of an outdoor kitchen is similar to an indoor configuration. Choose an area that is not too far from your kitchen. The seating area should be far enough away from the grill so that everyone can enjoy the outdoors.
Kitchen Shapes
L-shaped kitchens are popular as they work well with walls, fences or dividers that are already in place in your yard and also allows you more counter space adjacent the grill. U-shaped kitchens are larger and include a grill, refrigerator, sink and bar area. They are usually built beneath a cover to provide lighting and fans. Layouts can be completely outdoors, partially covered or completely covered. Island kitchens bring the grill and all cabinets in one central unit. It provides access on all four sides so that the cooks and guests can circulate.
Keeping the Amenities
Whichever layout you choose think about, the basic work zones in your kitchen such as – prep area, cooking, serving area and entertainment area. Having many of the same amenities in your outdoor living/kitchen as found inside your home allows you to cook, host and relax while enjoying nature. The outdoor kitchen should have what everyone needs without having to run into the house for ingredients, beverages, cutlery or paper plates.
Pick a Finish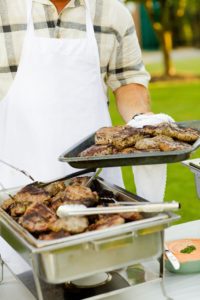 Stainless steel is still the main option for outdoor grills and appliances.  It is easy to clean and corrosion-resistant. The cabinets, however, need not have a stainless finish. With advancements in powder coat painting the stainless steel, you can choose colors such as white, blue or slate or even cabinets that resemble wood.  These cabinets resist chipping, fading, oxidation and are protected from harsh elements such as chlorine.
Have fun relaxing and entertaining outdoor while enjoying a delicious barbecue dinner. Let's get together so that we can begin designing your outdoor oasis.
Working With Magazi Kitchen and Baths
Magazi Kitchens and Baths and A.G. Building and Remodeling will work with you to meet your budget and accomplish improvements that will make a statement and allow you to enjoy your space. Relying on 25 years of experience with kitchen and bath planning and remodeling, Magazi Kitchens & Baths works with you to understand your dream for the space. By combining the talents of a designer and installer that work together every step of the way, we ensure your project is built in the most efficient and economical way. Our work spans Montgomery, Howard, Baltimore, and Anne Arundel Counties, including the towns of Bethesda, Silver Spring, Rockville, Kensington, Olney, Gaithersburg, Columbia, Ellicott City, Annapolis, and more. Be sure to follow us on Facebook, Twitter, and LinkedIn!