To repair and restore the damage to your home due to a water leak can be very costly. Not to mention that saturated carpets need to be thrown out, the musty order, it can trigger mold, warping of wooden beams and flooring, and treasured mementos lost.  Cleaning up and fixing a water leak can be difficult but prevention is a good option. Here are some tips to protect your home from water leaks and water damage:
1. Check for Issues
When the seasons change check the exposed pipes in your basement for signs of leaks. Check under each sink and toilet and inspect the valves and pipes for any
signs of leakage and tighten any loose connections.  If any of the water supply lines are plastic replace them with braided stainless steel lines. There should be operating cut-off valves in these areas.
2. Water Supplies
Learn where your main water valve is located.  In the event you have a water leak in a pipe, you can shut off your water to prevent any damage.  Also when you leave for a vacation or a weekend, shut off the water supply to your washing machine or even your main water line if you're leaving for a long period.
3. Pressurized
Check the water pressure in your home. If it is too high it can wreak havoc on your water pipes. A safe range of pressure is between 55 and 75 pounds per square inch (psi).
4. Drain It
Drain your water heater annually to flush sediment out of the system.
5. Install Some Help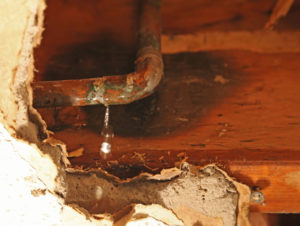 Install a Moen FLO or a Grohe Sense on your main water line.  If your water pressure gets low due to a leaking toilet or wash machine it will turn off the water. Even if someone forgets to turn off a faucet, it will alert you. However, it will not tell you where the water leak is occurring. If you desire, at night it turns off the water flow for eight hours.  When you are away, it will send a message to your phone that a leak has been detected and shut off the water.
You may want to check with your insurance company that installing an alert cut-off water system in your home will lower your premium.
We'd also like to say happy Mother's Day! Enjoy time spent with your family's this weekend, from our family here at Magazi.
Working With Magazi Kitchen and Baths
Magazi Kitchens and Baths and A.G. Building and Remodeling will work with you to meet your budget and accomplish improvements that will make a statement and allow you to enjoy your space. Relying on 25 years of experience with kitchen and bath planning and remodeling, Magazi Kitchens & Baths works with you to understand your dream for the space. By combining the talents of a designer and installer that work together every step of the way, we ensure your project is built in the most efficient and economical way. Our work spans Montgomery, Howard, Baltimore, and Anne Arundel Counties, including the towns of Bethesda, Silver Spring, Rockville, Kensington, Olney, Gaithersburg, Columbia, Ellicott City, Annapolis, and more. Be sure to follow us on Facebook, Twitter, and LinkedIn!