Whether your basement is finished or not, it seems to be a space that sits and looks as if it is where miscellaneous items are stored that aren't wanted on the main level of the home. Perhaps a small area is used as a playroom. However, this lower level holds the potential for comfort, relaxation, and entertainment.
In-Law Suite
If the basement is partially submerged and has a level entrance, it is ideal to remodel the space into living quarters for elderly parents. This arrangement minimizes the use of stairs and lowers the potential for accidents. It can be a lot easier to heat and cool throughout the year. A bedroom at the lower level can provide a darker environment, contributing to a better night's sleep.  
Entertainment Area
The lower level can also be transformed into a welcoming entertainment area for hosting parties or family relaxation. A bar area with an ice maker, dishwasher, under-cabinet refrigerator, and microwave eliminates going up and down the stairs. Comfortable sofas, a TV, and an electric fireplace can add warmth, coziness, and fun.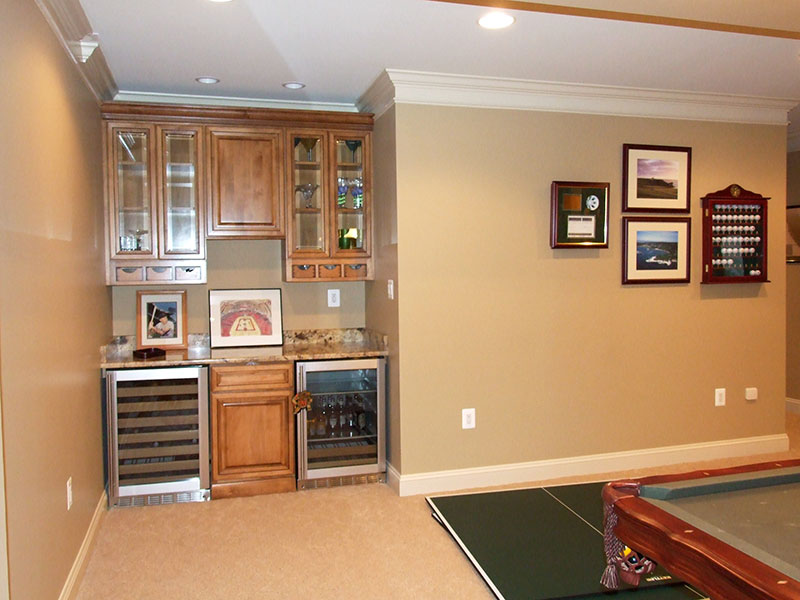 Style Tips
Once you decide how you would like to use the space, design it with lighter, softer tones and bright colors to work with the space's diminished natural light. It is also important that as much light as possible is present, whether it is recessed, accent, or task lighting. Whatever the use of the lower level, it should act as a continued extension of the rest of the home. Draw inspiration from the existing design to create a seamless transition from the upstairs to the downstairs.
Our showroom will be closed from November 23 until November 28. 
          HAVE A SAFE AND WONDERFULL THANKSGIVING HOLIDAY 
          With Family and Friends!      
          We are Thankful, Greatful, and Blessed!
Working With Magazi Kitchens and Baths
Magazi Kitchens and Baths and A.G. Building and Remodeling will work with you to meet your budget and accomplish improvements that will make a statement and allow you to enjoy your space. Relying on 30 years of experience with kitchen and bath planning and remodeling, Magazi Kitchens & Baths works with you to understand your dream for the space. By combining the talents of a designer and installer that work together every step of the way, we ensure your project is built in the most efficient and economical way. Our work spans Montgomery, Howard, Baltimore, and Anne Arundel Counties, including the towns of Bethesda, Silver Spring, Rockville, Kensington, Olney, Gaithersburg, Columbia, Ellicott City, Annapolis, and more. Be sure to follow us on Facebook, Twitter, and LinkedIn!