Some features never go out of style. Plants in the kitchen or bathroom and window seats in the kitchen or bedroom are just a few. Carpeted floors in your bathroom date your home and should be replaced with luxury vinyl flooring or heated tiles. The modern farmhouse style is tired and overdone. Overly bold colors in any room, especially in the bathroom, are outdated, but soft and calming colors are in. Acrylic accents are definitely out of style. The faux-distressed finish that was popular in the last few years is on its way out. What about the design trends for 2023? Several incoming design trends are the following.
1. Curved Lines
Curvy lines and furniture such as arched doorways, crescent sofas, and
curvy nightstands are making their mark in recent years and are here to stay for 2023. In the bathroom, you can expect to see oval soaker bathtubs and oval mirrors, plus rounded pendant lights and cabinets with arched glass doors in the kitchen.
2. Natural & Rustic Materials
Bring the outdoors in, not only with plants but rustic bathroom vanities, stained wood kitchen cabinets, earthy tones, and natural wood floors.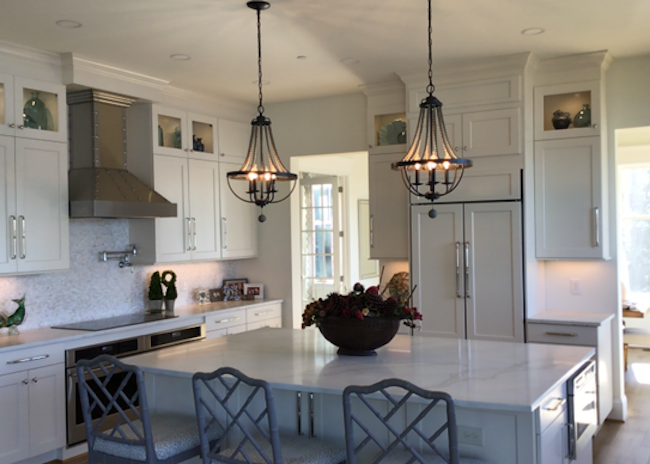 3. Sleeker Lighting Fixtures
The industrial style has been in for a while but is now shifting. A new sleeker design for lighting would include a single-tier chandelier in lieu of industrial-inspired caged lighting. Lighting trends also feature pendants in the kitchen and chandeliers in the bathroom.
4. Large Showers
This coming year welcomes larger showers in the bathroom with a seat, grab bars, two shower heads, and room for two or even an area to bathe your dog. It can be a walk-in or glass-enclosed. Double vanities and floating vanities are also in.
Overall, the design trends for 2023 have a clean look, are no fuss, and feature lots of storage. To increase the value of your home, Magazi Kitchens and Baths and A.G. Building and Remodeling use current design trends in remodeling your home.
Working With Magazi Kitchens and Baths
Magazi Kitchens and Baths and A.G. Building and Remodeling will work with you to meet your budget and accomplish improvements that will make a statement and allow you to enjoy your space. Relying on 30 years of experience with kitchen and bath planning and remodeling, Magazi Kitchens & Baths works with you to understand your dream for the space. By combining the talents of a designer and installer that work together every step of the way, we ensure your project is built in the most efficient and economical way. Our work spans Montgomery, Howard, Baltimore, and Anne Arundel Counties, including the towns of Bethesda, Silver Spring, Rockville, Kensington, Olney, Gaithersburg, Columbia, Ellicott City, Annapolis, and more. Be sure to follow us on Facebook, Twitter, and LinkedIn!