As the New Year gets underway there are certain trends that have begun in 2018 and some new upcoming trends that will be outstanding in 2019.
The Powder Room
In the Powder Room drams and bold designs are ahead of the class. Black walls are dramatic with printed geometric or floral porcelain floor tiles, and mosaics for the encore. Black fixtures and accessories dominate.
Black: The New White
Black will be the new white as cabinet manufacturers produce door style and accessories in matte black.  The plumbing industries have included matte black in bath and kitchen faucets, shower fixtures, accessories and even black granite sinks. Black or darker counter tops add more depth and color to the kitchen.
Wet Rooms
Enclosed wet rooms in the bathroom, tub and shower all in one frameless glass enclosure, give a spa experience. You have a free standing sculptured tub in a surrounding that you don't have to worry about water spillage or leaking floor mounted hardware. Tubs will be making a comeback in 2019.
Use Color
Look for muted bright colors that are highly saturated but with a tint or shade that will make them more subdued. Muted blues and greens will lead the color palette.
Shelving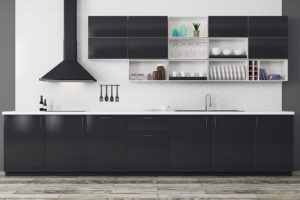 Open shelving is a trend that has been carried over from last year. However in 2019, unique upper open shelving ideas such as metal open shelves, upper cabinets with open shelving or no upper cabinets will be an alternative to wall cabinets.  These open shelving designs can be used not only in the kitchen but in the bathroom as well.
Acrylic
Acrylic furniture is nothing new but it is going to be even hotter item in 2019 such as bar stools, benches, make-up chairs, coffee tables to mention a few.  It looks great, easy to care and  works with any design and color in the room
As trends come and go, design your room with a professional who can create a space that you and your family will enjoy for many years.