Galley kitchens are becoming more popular today as people are downsizing their kitchens from the cabinet-filled kitchen with appliances laid out in a triangular configuration to a smaller straight in-line kitchen known as a galley kitchen. It seems that in larger kitchens many repeated items such as pots and pans and small appliances toasters and mixers are stored. In condensing these items less storage space is required.
Ideal for Small Spaces
Having an island requires more walking to get to the cooking area to sink. The galley kitchen is compact with less walking from one appliance to the other or to the sink. This design is great for smaller homes or apartments.
An Example Project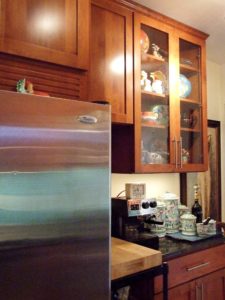 Our client lived in a large condo and was deciding whether to remove a wall to enlarge her kitchen or remodel her galley footprint. Removing the wall was costly due to the additional electrical work required and was decided to use this savings on her appliances. However, in removing the bulkhead in the kitchen we were able use taller wall cabinets.
The design included 42" high wall cabinets, some with clear glass doors, and a 21" wide by 96" tall utility cabinet with roll trays. Thus more storage space was added. A slim refrigerator was placed opposite her sink and her appliances were staggered in one straight line.
Dark granite counter tops added depth to the kitchen.  The under cabinet lights and the glass tiled backsplash made cooking a delight.
We suggest that before you remodel your kitchen to dispose of repeated items or stored items you do not use.
Working With Magazi Kitchen and Baths
Magazi Kitchens and Baths and A.G. Building and Remodeling will work with you to meet your budget and accomplish improvements that will make a statement and allow you to enjoy your space. Relying on 25 years of experience with kitchen and bath planning and remodeling, Magazi Kitchens & Baths works with you to understand your dream for the space. By combining the talents of a designer and installer that work together every step of the way, we ensure your project is built in the most efficient and economical way. Our work spans Montgomery, Howard, Baltimore, and Anne Arundel Counties, including the towns of Bethesda, Silver Spring, Rockville, Kensington, Olney, Gaithersburg, Columbia, Ellicott City, Annapolis, and more. Be sure to follow us on Facebook, Google +, Twitter, and LinkedIn!