Bathroom trends come and go, but each trend brings with it something beautiful and unique to behold. The top bathroom trends for 2022 are tried and true; there are luxury bathroom styles and features for everyone. Magazi Kitchens & Baths is equipped to help you create a bathroom design that you will love. 
1) BATHROOM FIREPLACES 
How luxurious and comforting it is to relax in a bubble bath while a fireplace fire crackles nearby and to step out of the tub into a warm room! The fireplace can have a dual function as it can be positioned so that it not only services the bathroom but the master bedroom as well.
2) MARBLE BATHROOMS 
Marble tiles and countertops have been in use for centuries. Today the modern version of a marble bathroom is large tiles, light in color with accents of silver, gold, grey, or black. Marble countertops can stain and need a good protective coating.
3) INDUSTRIAL BATHROOM
An industrial spin on a classic bathroom is one with metal tubs, sinks, exposed piping, and vintage fixtures. Black framed shower doors or panel doors complete the look. 
4) VINTAGE BATHROOM 
Gold vintage fixtures, vibrant colors, and floral wallpaper make a stylish vintage bathroom. A free-standing tub or roll-top tub with wrap-around shower curtains captures the period. Meanwhile, yellow or green paint works wonders.
5) BATHROOM TV AND FLORAL PLANTS  
Due to improved technology, you can place a T.V. in your bathroom almost anywhere, even in a medicine cabinet. Big lush plants such as ferns and peace lilies can turn the bathroom into a lush oasis.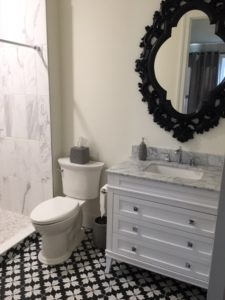 6) BLACK ACCENTS 
Though chrome or nickel have often been used in bathrooms, today we have black fixtures, accessories, and black framed shower doors. White tiles with black grout or a black patten tile offer a striking contrast.
Whatever the style or trend you remodel your bathroom, make it an oasis where you can shed stress and relax.
Working With Magazi Kitchens and Baths
Magazi Kitchens and Baths and A.G. Building and Remodeling will work with you to meet your budget and accomplish improvements that will make a statement and allow you to enjoy your space. Relying on 30 years of experience with kitchen and bath planning and remodeling, Magazi Kitchens & Baths works with you to understand your dream for the space. By combining the talents of a designer and installer that work together every step of the way, we ensure your project is built in the most efficient and economical way. Our work spans Montgomery, Howard, Baltimore, and Anne Arundel Counties, including the towns of Bethesda, Silver Spring, Rockville, Kensington, Olney, Gaithersburg, Columbia, Ellicott City, Annapolis, and more. Be sure to follow us on Facebook, Twitter, and LinkedIn!