The kitchen will always be the "heart of the home." Today. kitchen faucet manufacturers offer many products that provide functionality, design and finishes to coordinate with the home design. The faucet has become the focal point in the kitchen and many colors and non-traditional finishes are available to obtain the desired look.
An Important Fixture
The kitchen faucet is probably the most used fixture in the home.  The pull-down faucet and the semi-professional models are today's trend.  Manufacturers are combining modern and traditional features and new finishes such as polished nickel, oil rubbed bronze, matte black, gold and even dual finishes.  With the open concept in most homes, the kitchen faucet is very visible and should blend in with the décor.
New Technology
Delta has launched a voice-activated faucet that allows you to turn the faucet on or off, dispense a metered amount and even fill a container like a coffee pot without lifting a finger. Other manufacturers, such as Kohler, American Standard, have touchless faucets with measuring capabilities. The pull-down faucet usually has a tall arc with a sleek look with side controls.  The head of the faucet, which pulls down, has a button that can give you one to three different sprays. Purchase a quality faucet as it will last many more years and some manufacturers even have a lifetime warranty. Repairs, such as replacing the cartridge to prevent leaking or replacing the hose, cost much less than having to replace the faucet.
Remodeling Trends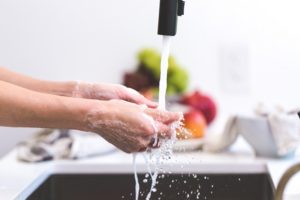 In remodeling the kitchen today, the trend is to remove non-bearing walls or open walls making an open living, dining and kitchen area. The faucet should enhance the overall design.  Manufacturers are constantly working on concepts that combine innovative designs with purposeful technology to improve the daily life of the consumers. As designers, we design kitchens to incorporate these products whenever possible.
Working With Magazi Kitchen and Baths
Magazi Kitchens and Baths and A.G. Building and Remodeling will work with you to meet your budget and accomplish improvements that will make a statement and allow you to enjoy your space. Relying on 25 years of experience with kitchen and bath planning and remodeling, Magazi Kitchens & Baths works with you to understand your dream for the space. By combining the talents of a designer and installer that work together every step of the way, we ensure your project is built in the most efficient and economical way. Our work spans Montgomery, Howard, Baltimore, and Anne Arundel Counties, including the towns of Bethesda, Silver Spring, Rockville, Kensington, Olney, Gaithersburg, Columbia, Ellicott City, Annapolis, and more. Be sure to follow us on Facebook, Twitter, and LinkedIn!